If you require further information regarding elections and voting that are not addressed here in our FAQ list, please contact the Voter Registrations and Elections Office at 229-838-6220 ext 210
---
▼ Where can I register to vote?
▼
What are the acceptable types of photo ID for voting?
▼ Do I have to register by party in Georgia?
▼ I'm an elderly voter and it's hard for me to stand in line; are there any provisions for me?
▼ The hours for voting on Election Day are 7:00am - 7:00pm. Are there any other options?
▼ Who can vote absentee ballot by mail? And how often do you have to apply?
▼ Can anyone return a voted ballot?
▼ Can a felon vote?
▼ Are there deadlines for absentee applications and/or absentee ballots?
▼The voter did not receive the ballot that was mailed. Can another be mailed?
▼ What happens if I have been issued an absentee ballot but decide I would rather vote at my precinct on Election Day?

The maps below require Adobe Reader. If you do not have it, click the icon to download a free copy (Optimized for Reader 11)
To open the Adobe toolbar (zoom +/- etc..) in your browser, press the F8 key when a map loads.
---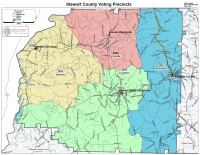 Stewart County Voting Precincts
---
---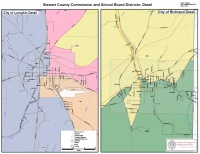 Detailed map for Lumpkin & Richland